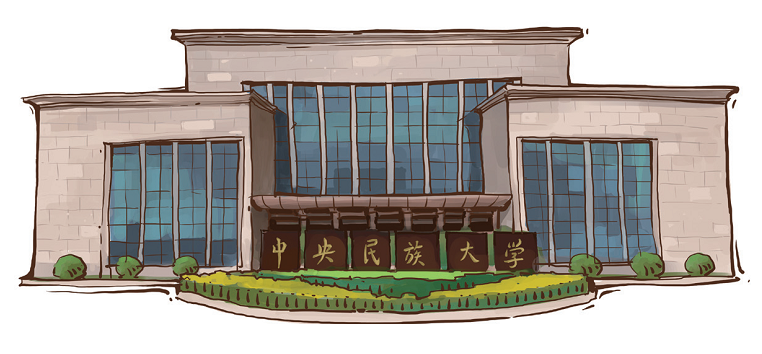 Getting to MUC
Address: 海淀区中关村南大街27号中央民族大学西门国际公寓
Relative location: Haidian District, northwestern Beijing (about 10 kilometers from the city center)
Our immediate neighbors to the south include the Beijing Academy of Dance; the National Library of China, the largest library in Asia with a collection of rare, ancient texts; and the Purple Bamboo Park, one of the ten most beautiful parks in Beijing.
- A bit farther south across Zhongguancun South Avenue is the Capital Gymnasium, a Carrefour Supermarket and the Beijing Zoo.
- To the north and conveniently on subway Line 4 are two of China's most prestigious universities, Peking University and Tsinghua University.
- Beijing Foreign Studies University and China Youth Institute of Politics and Law are each about a ten-minute walk from MUC's West Gate.
Transportation from the airport:
MUC pick-up:airport-pick up service free of charge for new teachers
Subway:Weigongcun station and National Library station (line 4)
Regular lines:¥3 for a trip up to 6 km in distance, ¥1 added for the next 6 km, ¥1 for every 10 km after, and ¥1 for every 20 km beyond the first 32 km.
Airport Express:¥25 per ride
Riders can look up fares by checking fare schedules posted in stations, calling the subway hotline 96165, going to the Beijing Subway website, or using the subway's smartphone app.
Taxi:¥13 for the first 3 km, with ¥2.3 per additional km. After 11pm the base fare goes up to ¥14.
A taxi from the airport to MUC will cost ¥100+.
Airport Shuttle Bus:route 4 to Youyi Binguan bus stop (Friendship Hotel), then take a taxi to MUC's West Gate. Shuttle bus costs ¥24, see section above for taxi costs.
Notes for Checking in
- The Housekeeping Office to check in is on the ground floor near the entrance.
- The International Apartment Building is opposite the MUC West Gate.
The International Apartment Building for foreign experts

Housing Regulations

1. Under the university housing policy, a deposit of 500RMB is required when you check in. The money will be refunded at check out, provided there is no property damage in the apartment.

2. No alterations should be made without seeking permission.Please take care of the apartment anddo notput nails in the wall.

3. The apartment is the university's property and is to be occupied only by MUC foreign experts. Any renting or sub-tenancy is strictly prohibited. If you invite your friends or relatives to stay please register them as well as required by the Beijing Public Security Bureau

4. Be aware of where to assemble in case of emergency (fire, flood etc).The location of Fire Exits should be noted.

5. No pets are allowed.

Housekeeping Service

The Housekeeping Office staff provide daily bathroom cleaning, but they are not responsible for cleaning the apartment. Bedsheets are provided by MUC and will be changed every two weeks under normal circumstances. If you do not wish to use this service, please inform the Housekeeping Office directly.

?